In October 1964, heavy machinery employed on the new Sevenoaks By-pass road scheme disturbed a number of Saxon graves close to the foot of Polhill. Other Saxon graves, clearly forming part of a large cemetery, had been destroyed immediately to the East by other roadworks on at least three occasions in the previous hundred years.
The discovery was reported by the Sevenoaks police to Mr D B Kelly at Maidstone Museum, who got in touch with me as the site lay within the area covered by the West Kent Border Archaeological Group, and a visit to the site revealed the need for immediate emergency excavation. The KCC engineer in charge of the scheme was approached, the contractors informed, financial support was obtained from the Ministry of Public Building and Works, and an urgent appeal for help was sent to other local groups. In response to this appeal, eleven members of the West Kent Border Group (including boys from the Chislehurst and Sidcup Grammar School), three members of the Otford Historical Society, and one each from the Lower Medway, Gravesend and Orpington Groups gave assistance. This was the first instance of inter-Group help with such emergency operations now being organised on a County basis.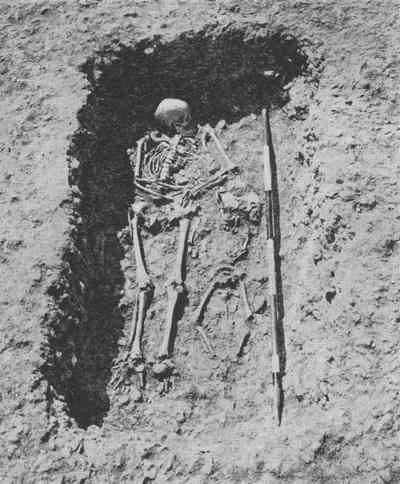 Work began immediately and continued for the next five days, often into the night in near freezing conditions. During this period, 16 graves were located, excavated, recorded, photographed and cleared, and it appears that few, if any, were missed in the threatened area. Each grave had been dug 10 to 24 inches into solid chalk, and all were aligned roughly East-West, with heads at the west end. Of the 15 skeletons recovered, one at least was that of a child; of the rest, 12 had been buried with small iron knives, normally placed at the left waist, and one with an iron spear along the right side of the body. Three graves contained bronze buckles and a stud. These few finds suggest that the cemetery dates between AD 550-700.
With these 16 new graves, the known total is now 35, and clearly many others must have been destroyed years ago. The cemetery, flanking the Pilgrim's Way, is very similar to several others known in Kent as to date, siting, orientation, grouping and grave-goods. Two of the nearest and best known of these occur at Horton Kirby, in the Darent Valley, and at Holborough, in the Medway Valley, both within 12 miles.
COPYRIGHT RESERVED. THIS ARTICLE APPEARED IN THE AUTUMN 1965 (ISSUE #1) EDITION OF THE KENT ARCHAEOLOGICAL REVIEW. PERMISSION SHOULD BE SOUGHT (IN WRITING) TO REPRODUCE OR QUOTE FROM ARTICLES IN THE K A R. WE ARE NOT RESPONSIBLE FOR OPINIONS AND STATEMENTS EXPRESSED BY CONTRIBUTORS TO THE K A R.