Introduction:
Patch Grove pottery has presented a problem to archaeologists for the past twenty-five years or more since its discovery in Kent. Having myself examined many hundreds of fragments of this ware, both during excavation and in various collections, I have endeavoured to collect all the available evidence concerning this type of pottery and to condense it into this brief study, with the hope that further research work will produce the solution to the problem.
Discovery:
Patch Grove pottery was first identified as an individual ware at Patch Grove, from which it derives its name, near Ightham, Kent. During the excavation of Oldbury Hill Fort (Arch.Cant.Vol LI (1939) pages 137-181) in 1938 by Mr J B Ward-Perkins FSA, numerous pieces of pottery were noticed decorated with stabbed impressions and having an orange, soft soapy texture. Although the pieces were not illustrated in the Report, drawings of similar pottery from St Mary Cray, Orpington and Otford were published in the account – showing the distinctive decoration (NB The objects from Oldbury are now in the County Museum at Maidstone).
The next published "find" of Patch Grove pottery was over the border in Surrey, where Mr A W G Lowther, FSA in his Report on Purbery Shott (Surrey Arch.Coll.Vol.L (1946-47) pages 9-46) illustrated a complete Patch Grove pot found in association with a 1st century AD hearth, sealed beneath the surfaces of an early Roman road. Mr Lowther has kindly allowed me to examine all the Patch Grove ware from his Surrey sites, including the unique urn, which has a double-line of stabbing at the shoulder and another single line of stabbing halfway down the pot. The decoration tries to disguise the fact that the vessel appears to have been constructed in two halves and joined in the middle in the manner of classical Roman dolia. The Purbery Shott site was abandoned soon after AD 150.
During the initial excavation at Lullingstone (Arch.Cant Vol. LXIII (1951) pages 149) a series of Patch Grove-type wares was discovered dated to the first half of 1st century AD. This included some hand-made pieces in the characteristic soft soapy clay, but without the decoration or shape of the original Patch Grove pottery. In a further published series from the Lullingstone Villa (Arch. Cant.Vol LXV (1952) pages 26-78), Patch-Grove ware was stated by Lieut Col G W Meates, FSA, to have been found in a 3rd century context.
Mr P J Tester, FSA in his Report on the Romano-British site in Joyden's Wood, Bexley, Kent, (Arch.Cant.Vol LXVIII (1954) pages 167-183) illustrated Patch Grove type wares from various ditches, dated not later than AD 200. Since this report was published, Patch Grove pottery has "appeared" in almost every excavation carried out in North West Kent (according to my knowledge). Its "find-sites" are concentrated in the Cray Valley (10 sites) and to a lesser extent in the Darenth Valley (5 sites) although this "distribution" may be solely due to the energy of local archaeologists! Patch Grove spreads itself into Surrey (5 sites), whilst a piece has appeared in Essex (Shoeburyness) and there is a Patch Grove type burial urn in the museum at Cirencester (Glous.) (Museum Catalogue Number B.1243) found in the 1st Century AD cemetery outside the Roman town. However, it is interesting to note that no positive Patch Grove ware has been identified from Canterbury, Ospringe, Richborough or Reculver – all important sites in East Kent, which we might suspect would produce abundant examples. Perhaps, this may be further evidence of the ancient division of Kent into two independent communities by the River Medway?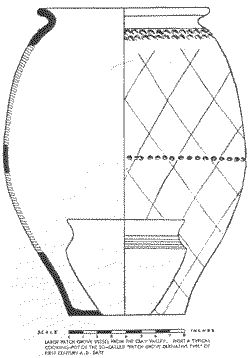 Description:
The most distinguishing feature of Patch Grove pottery is its decoration. This consists of a strong line of stabbing round the shoulder of the pot, together with another round the body of the vessel, produced by the potter with a bird-bone, wooden spatula or some similar tool, prior to the final application of the familiar orange exterior "slip" so characteristic of Patch Grove ware. This stabbed decoration appears to be a revival of an earlier Bronze and Iron Age traditional technique, but it does not appear again in the Romano-British period, although there is another re-emergence of stabbed decoration on Medieval pottery. The stabbed decoration does not appear on the so-called Patch Grove "derivative pottery," and the suggestion is made that this pottery be known as "pre-Patch Grove" ware. Certainly it was not derived as the name implies from Patch Grove ware, either by shape, size or decoration, although the clay-source may have been the same.
Evidence indicates a pre-conquest date for this "pre-Patch Grove E ware" and a post-conquest date for Patch Grove pottery itself. This dating is only tentative at present and will need confirmation by further, research work into the structure of the subject races on each side of the Medway during the period of the Roman occupation in the 1st Century AD.
In conclusion, I would like to appeal to all interested in the problem of Patch Grove that an excavation should be mounted on the original Oldbury Hill site at Patch Grove, providing permission be obtained. By means of a Resistivity Meter a survey of the area can be completed to locate the possible Patch Grove kiln(s). On excavation of the structure(s) a magnetic reading could be obtained which would prove beyond doubt the "post-terminus" date of Patch Grove and provide, no doubt, interesting items for the concluding study of the subject — Patch Grove pottery.
COPYRIGHT RESERVED. THIS ARTICLE APPEARED IN THE Winter 1966 (ISSUE #6) EDITION OF THE KENT ARCHAEOLOGICAL REVIEW. PERMISSION SHOULD BE SOUGHT (IN WRITING) TO REPRODUCE OR QUOTE FROM ARTICLES IN THE K A R. WE ARE NOT RESPONSIBLE FOR OPINIONS AND STATEMENTS EXPRESSED BY CONTRIBUTORS TO THE K A R.