The excavation of this extensive site, covering some four to five acres, was undertaken during January and February 1965 in advance of development projects. Mechanical excavators were used throughout the excavation, and what would normally have taken ten years to excavate by conventional means was completed within 55 days.
The site of the Abbey, established by King Stephen in 1148 as a Cluniac foundation, was located and the associated buildings examined. The church itself proved to be a vast structure, over 350 feet in length and nearly 80 feet in width. Longer than the Confessor's Westminster Abbey, longer than Lanfranc's Canterbury and larger than St Augustine's Abbey, it was clearly one of the great abbeys of the realm. Stephen, his wife and son were all buried within the church.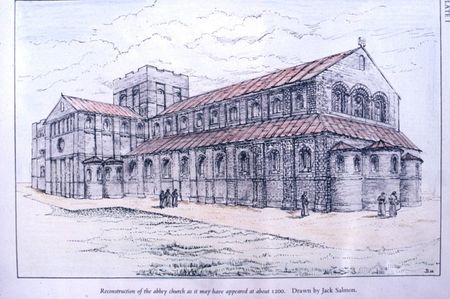 To the North was a correspondingly large cloister and attached buildings, including Chapter House, Frater, Dorter, Cellar and West Range. The church and claustral buildings had been reduced in size at a later date, and a large cemetery covered part of the original structure.
The many small finds included carved stonework, window glass, lead, large numbers of floor tiles and several coins. The tiles form an important series ranging in date from the 12th to the 15th century. The glass, painted and coloured, is some of the earliest of its type so far found.
The work was carried out, on behalf of the Ministry of Public Building and Works, by the Reculver Excavation Group, the West Kent Border Archaeological Group and several members of other Kent groups.
COPYRIGHT RESERVED. THIS ARTICLE APPEARED IN THE AUTUMN 1965 (ISSUE #1) EDITION OF THE KENT ARCHAEOLOGICAL REVIEW. PERMISSION SHOULD BE SOUGHT (IN WRITING) TO REPRODUCE OR QUOTE FROM ARTICLES IN THE K A R. WE ARE NOT RESPONSIBLE FOR OPINIONS AND STATEMENTS EXPRESSED BY CONTRIBUTORS TO THE K A R.