In May 1968, workmen digging a drainage trench at Grove Manor Farm, Wodnesborough, uncovered a large quernstone of rotary type. It came from the silt of a moat close to a private road leading to the farm. The stone is a complete lower-section made of lava from the Mayen district of Germany. It is of the dish type known only on medieval sites and probably dating from 13th-15th centuries. A slightly smaller example was found at Faversham Abbey in 1965 (Excavations at Faversham, 1965, page 61, Number 167) and others have been found in Kent at St Paul's Cray, St Augustine's Abbey and perhaps Joydens Wood. It also occurs on a number of other medieval sites in Britain.
The Woodnesborough example is 17.6 inches in overall diameter and shows slight signs of wear. Its wall, which is 1.6-1.8 inches thick and 3 inches high internally (5 inches externally), inclines outwards. Its base, about 1.8 inches thick and slightly domed, is pierced by a central hole about 2 inches wide. It has a single sub-rectangular spout (damaged) 2½-3½ inches wide. The upperstone (here missing) was normally rotated within this lower-stone to grind corn placed between the two with the resulting flour coming from the spout. The owner, Mr J Vinson, has kindly made the stone available for study. It is at present retained by Mr Vinson, but it is to be hoped that it may eventually be placed on loan in one of the main Kent museums.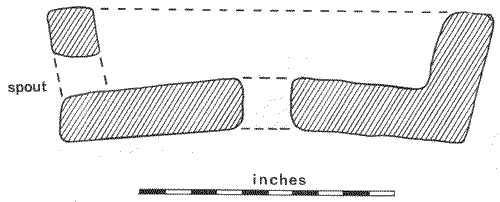 COPYRIGHT RESERVED. THIS ARTICLE APPEARED IN THE WINTER 1968 (ISSUE #14) EDITION OF THE KENT ARCHAEOLOGICAL REVIEW. PERMISSION SHOULD BE SOUGHT (IN WRITING) TO REPRODUCE OR QUOTE FROM ARTICLES IN THE K A R. WE ARE NOT RESPONSIBLE FOR OPINIONS AND STATEMENTS EXPRESSED BY CONTRIBUTORS TO THE K A R.