The sad story of Ravenscroft, Bromley, has been touched upon in several of the issues of KAR. Although listed as a Grade II building and certainly one of the oldest and best preserved in the Borough, it was demolished early in 1965. Just before demolition began members of the West Kent Border Group were able to record and photograph various aspects (figure 2).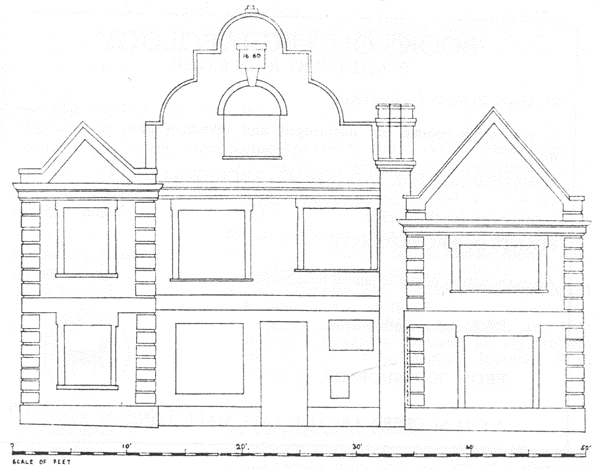 The house faced towards the north with its frontage parallel to Mason's Hill. It comprised a central block of three storeys with a fine curvilinear gable and dated by a plaque to 1660. The two wings were also gabled, but only of two storeys. Only the wing on the east side was original, that on the west being larger and added at some later date. At the back of the building were various Victorian extensions. The room on the west side contained light timber-framing, but this was clearly added to the original 17th century structure. It is not known if an earlier building existed on the site. The house, showing strong Dutch influence, was one of the very few examples in the Greater London area. Its demolition, intended to form part of a hospital extension-scheme, is strongly to be deplored. The site, more than two years after the demolition, still remains unused.
COPYRIGHT RESERVED. THIS ARTICLE APPEARED IN THE SUMMER 1967 (ISSUE #8) EDITION OF THE KENT ARCHAEOLOGICAL REVIEW. PERMISSION SHOULD BE SOUGHT (IN WRITING) TO REPRODUCE OR QUOTE FROM ARTICLES IN THE K A R. WE ARE NOT RESPONSIBLE FOR OPINIONS AND STATEMENTS EXPRESSED BY CONTRIBUTORS TO THE K A R.