The extensive emergency excavations undertaken by the KARGC at Polhill in March and April (KAR Number 9, page 2) uncovered another 66 Saxon graves and substantially cleared the cemetery. The excavation was, however, resumed for two weeks in July in order that the western limits of the site could be located and a series of post-holes examined in detail.
The project again had the backing of the Ministry of Public Building & Works and the active support of several local research groups. The hard core was comprised of members of the Otford and West Kent Border Archaeological Groups who are to be congratulated on their hard work. Mr A G Layers is to be thanked again for permission to excavate without restriction. Lenfield Engineering Ltd of Maidstone and Ashford kindly cleared the site without charge using their MasseyFerguson machines.
Another 5 graves were located in the area opened and these were duly recorded and excavated. This brings the total number of known graves up to 107 of which 88 have been rescued under the emergency scheme. One of the new graves was found to contain two skeletons and this increases the number of doubles graves to 15, a figure which no other Kentish cemetery site can match. Another grave was found to be encompassed within a shallow ditch which increases the number of barrows to six. It too had an eastern causeway and was located in the north-west corner of the cemetery. The skeleton in this grave (Grave 106) was that of a child buried in a wooden coffin. The graves produced the usual small iron knives and buckles.
It now seems clear that both the southern and western limits of the site have been reached and that the site originally covered some four acres. The northern edge lies beneath high mounds of spoil deposited from an adjacent quarry and it is just possible that isolated burials remain to be found. The story of the discovery of this site in the 19th century and its subsequent partial destruction on a number of occasions is well-known. It is hoped that the recent rescue work will at last prove to be the final chapter in the sorry saga.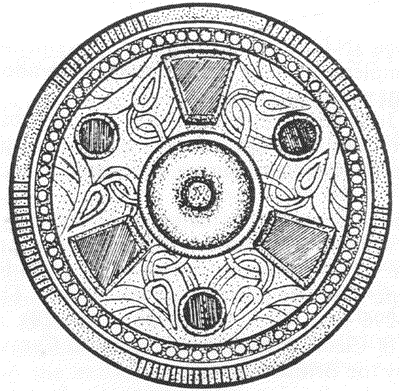 COPYRIGHT RESERVED. THIS ARTICLE APPEARED IN THE WINTER 1967 (ISSUE #10) EDITION OF THE KENT ARCHAEOLOGICAL REVIEW. PERMISSION SHOULD BE SOUGHT (IN WRITING) TO REPRODUCE OR QUOTE FROM ARTICLES IN THE K A R. WE ARE NOT RESPONSIBLE FOR OPINIONS AND STATEMENTS EXPRESSED BY CONTRIBUTORS TO THE K A R.